Luke's gospel gives a brief account of the Journey:

And it came to pass in those days, that there went out a decree from Caesar Augustus, that all the world should be taxed. (And this taxing was first made when Cyrenius was governor of Syria.) And all went to be taxed, every one into his own city. And Joseph also went up from Galilee, out of the city of Nazareth, into Judaea, unto the city of David, which is called Bethlehem; (because he was of the house and lineage of David:) To be taxed with Mary his espoused wife, being great with child.
Luke 2 v 1 - 5

The apocryphal texts expand the story, but details vary. Here is the version of the Protoevangelium of James:

And there was an order from the Emperor Augustus, that all in Bethlehem of Judæa should be enrolled. And Joseph said: I shall enrol my sons, but what shall I do with this maiden? How shall I enrol her? As my wife? I am ashamed. As my daughter then? But all the sons of Israel know that she is not my daughter. The day of the Lord shall itself bring it to pass as the Lord will. And he saddled the ass, and set her upon it; and his son led it, and Joseph followed. And when they had come within three miles, Joseph turned and saw her sorrowful; and he said to himself: Likely that which is in her distresses her. And again Joseph turned and saw her laughing. And he said to her: Mary, how is it that I see in your face at one time laughter, at another sorrow? And Mary said to Joseph: Because I see two peoples with my eyes; the one weeping and lamenting, and the other rejoicing and exulting. And they came into the middle of the road, and Mary said to him: Take me down from off the ass, for that which is in me presses to come forth. And he took her down from off the ass, and said to her: Whither shall I lead you, and cover your disgrace? For the place is desert.



And the same events described from the Gospel of Pseudo-Matthew:

And it came to pass some little time after, that an enrolment was made according to the edict of Cæsar Augustus, that all the world was to be enrolled, each man in his native place. This enrolment was made by Cyrinus, the governor of Syria. It was necessary, therefore, that Joseph should enrol with the blessed Mary in Bethlehem, because to it they belonged, being of the tribe of Judah, and of the house and family of David. When, therefore, Joseph and the blessed Mary were going along the road which leads to Bethlehem, Mary said to Joseph: I see two peoples before me, the one weeping, and the other rejoicing. And Joseph answered: Sit still on your beast, and do not speak superfluous words. Then there appeared before them a beautiful boy, clothed in white raiment, who said to Joseph: Why did you say that the words which Mary spoke about the two peoples were superfluous? For she saw the people of the Jews weeping, because they have departed from their God; and the people of the Gentiles rejoicing, because they have now been added and made near to the Lord, according to that which He promised to our fathers Abraham, Isaac, and Jacob: for the time is at hand when in the seed of Abraham all nations shall be blessed.

The account of the groups of Jews and Gentiles weeping or exulting is curious, and has never, to my knowledge, been illustrated. In fact, The Journey to Bethlehem itself is not found that often in Western art, though it is more popular in Byzantine cycles.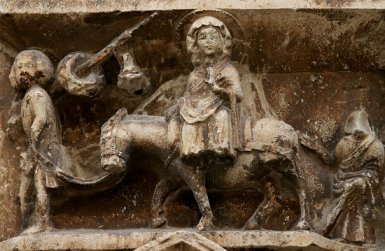 Altamura Cathedral, Puglia, Italy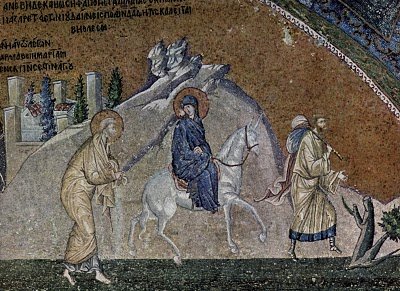 Church of the Holy Saviour in Chora, Istanbul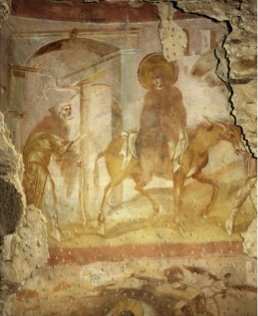 Santa Maria Foris Portas, Castelseprio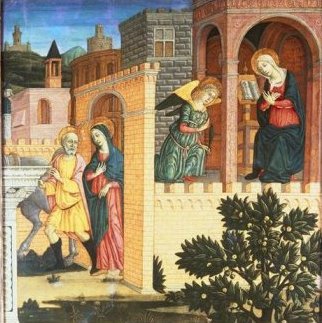 Guidoccio Cozzarelli
Lowe Art Museum Miami
This painting, unusually, shows the Annunciation,
and Joseph and Mary setting off to Bethlehem.
The arrival in Bethlehem
The arrival in Bethlehem features occasionally in Flemish art, as below. The painting from the Met shows a splendidly Disney-like Bethlehem: the version by Massys is rather more down to earth. Mary and Joseph are in the background, being turned away from the inn.
The Mosaic from The Church of the Holy Saviour in Chora, Istanbul, shows a busy scene of Joseph paying his taxes to an officious looking revenue collector. Nothing changes.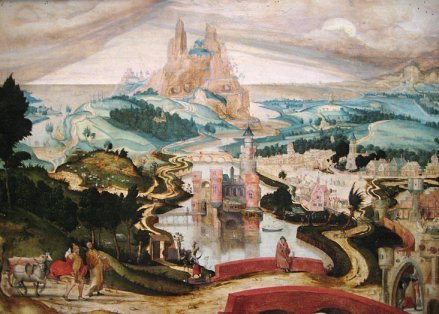 Master LC.( c 1540)
Metropolitan Museum New York.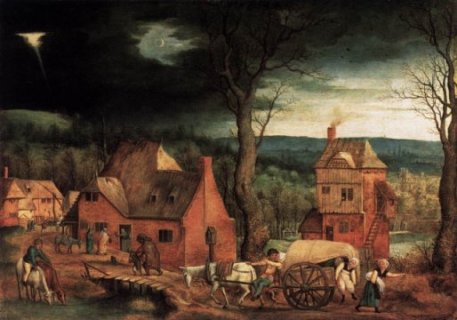 Cornelis Massys
Staatliche Museen, Berlin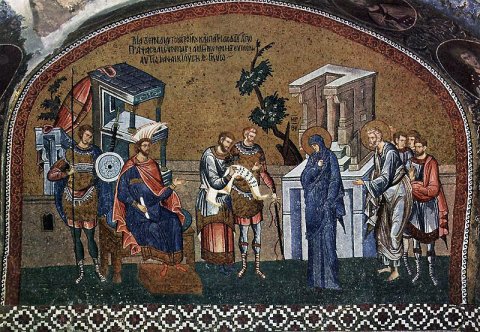 So does the Journey to Bethlehem have any historical reality, or is it simply a contrivance to fulfil an Old Testament prophecy? Geza Vermes, in The Nativity, struggles to find any credible evidence. Herod ruled until his death in 4 B.C., and as a client king any responsibility for censuses and tax gathering would have been his, not the Romans. In any case, Roman censuses were for Roman citizens, and Joseph was not one of these. The suggestion that a would-be tax payer would need to pay his tax in the city of his ancestors, not in the city where he had his property, would have made no more sense then than it does now.