St Thomas of Canterbury


Stained glass in Canterbury Cathedral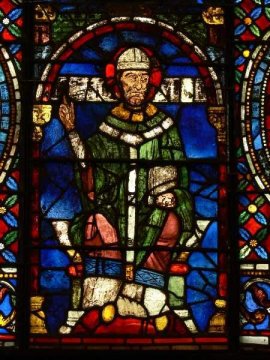 Canterbury cathedral has a magnificent collection of medieval stained glass. Many of the windows show familiar biblical themes, but a good number show scenes of the martyrdom of Thomas and the subsequent miracles.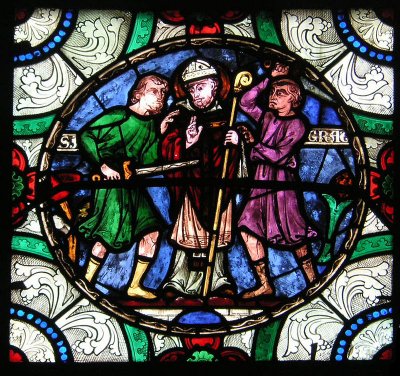 Thomas and Henry II The knights at the cathedral door Thomas at the altar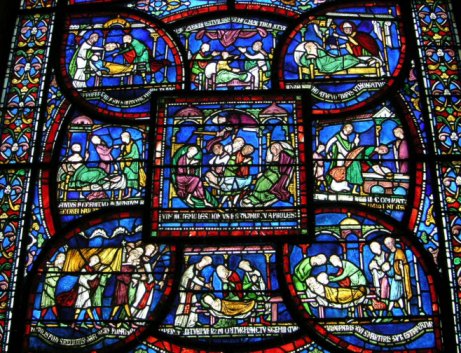 A knight and a monk The martyrdom Henry II does penance at the tomb

The miracles
The miracle windows mention over twenty reputed miracles performed by Thomas, perhaps convincing to the medieval pilgrim, but less so to the more cynical modern viewer. Some feature distinguished pilgrims, such as King Louis VII of France, but most are very ordinary people such as Cicily of Plumstead, Baldrick (who fell off his horse and broke his leg), Mad Henry of Fordwich, Robert of Cricklade who suffered from swollen feet, Bobby of Rochester who fell in the river when throwing stones at frogs, Adam the forester shot with an arrow by a poacher, and Mad Matilda of Cologne. Thomas's specialities seem to be curing madness and bad feet.
The story of Bobby of Rochester. He falls in the river: his friends rush to tell his parents, who pull him out of the river, but find he is dead. They pray to St Thomas, and Bobby recovers.

The story of Baldrick. He fall from his horse, prays at the shrine, Thomas is evoked and the leg is cured.
Mad Henry of Fordwich is dragged to the tomb by his keepers - and is cured!

For a complete overview of the Canterbury windows, follow this link.

On to page 4