The gospels do not agree on who attended the crucifixion.
In Mark, the three women get a mention but they are described as 'Afar off''.
The best match for Duccio's scene is John:


Now there stood by the cross of Jesus his mother, and his mother's sister, Mary the wife of Cleophas, and Mary Magdalene. When Jesus therefore saw his mother, and the disciple standing by, whom he loved, he saith unto his mother, Woman, behold thy son! Then saith he to the disciple, Behold thy mother! And from that hour that disciple took her unto his own home. (John 19 v25 - 27)

On the left we see the swooning Virgin, with John the Evangelist (the disciple whom he loved) holding her hands. Mary Magdalene stands behind the Virgin wearing red, so Mary the wife of Cleophas is probably the one in green. The other figures are probably the 'women of Jerusalem' and in the background some of the high priests.
The group on the left are more difficult to identify. What is the soldier-like figure nearest the cross holding? Is it a shield, or maybe the garment of Christ? The elderly figure in blue on the extreme right looks like Joseph of Arimathea (compare with the next scene) and the figure in red (front row) possibly Nicodemus.
The pointing figure is an interesting one. The centurion (Truly this man was the son of God' (Mark 16 v 39) is a possibility: The problem with that is he is not dressed like a centurion.
Note the two thieves on either side of Christ. Both have the same posture, but one (the good thief) looks towards Christ while the other (the bad thief) looks away. This contrasts with the Manchester crucifixion below.
It is interesting to compare this version of the crucifixion with two others attributed to Duccio: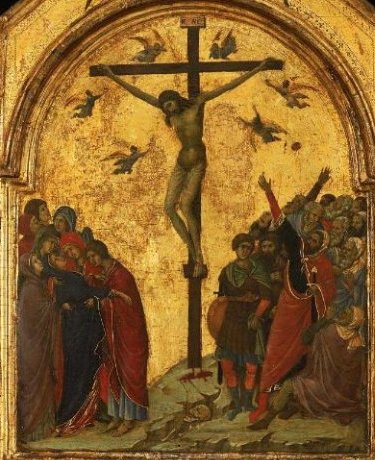 Museum of Fine Arts, Boston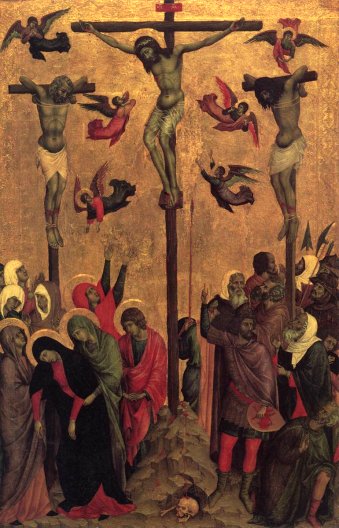 City art gallery, Manchester.