As I've indicated on the introduction page, these two ceremonies have merged and become one in art, ignoring the traditions and duties described in the Old Testament.
A typical version such as these early ones shows Mary and Joseph in the Temple, with Anna and Simeon in attendance. As described by Luke, Simeon is holding the Christ Child. Joseph may be holding the doves to signify the purification element.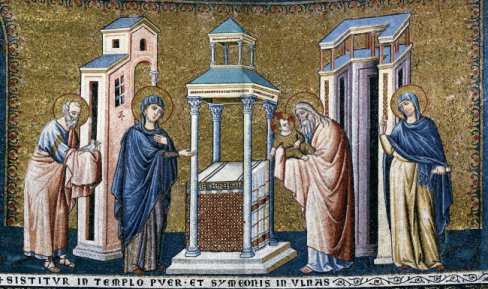 Pietro Cavallini
Santa Maria in Travastere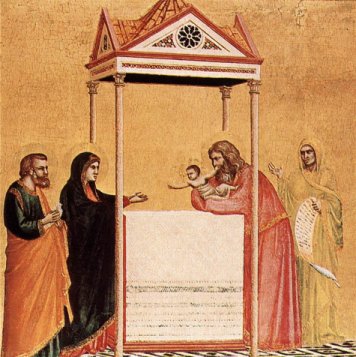 Giotto
Isabella Stewart Gardner Museum, Boston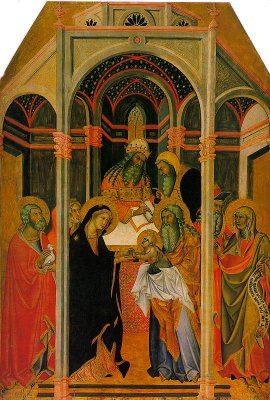 Bartoli di Fredi
Louvre, Paris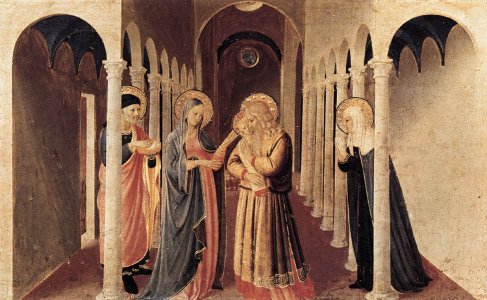 Fra Angelico
Museo Diocesano, Cortona
Carpaccio's version in the Accademia in Venice misses out many of these ingredients. The Christ Child is being presented to the Priest, and it's not clear if one of the men on the right is Simeon. There is no sign of Anna. Never mind - it is a beautiful picture, especially those musical angels.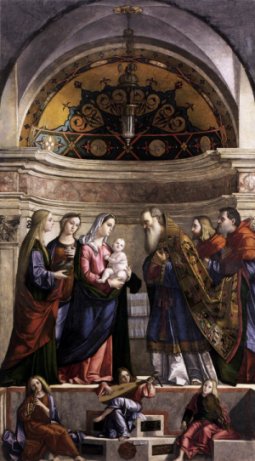 So are there any versions that show the Purification as it should have been, according to Leviticus? Let's look at the beautiful illumination by the Limbourg Brothers, from the Très Riches Heures du Duc de Berry. (Musée Condé, Chantilly.)
here's the virgin, alone, on the steps of the Temple, carrying her own doves. The Christ Child is in the safe hands of a midwife. No presentation for him at this point. The priest is heading out of the Temple to attend to the purification.

Those Limbourg Brothers certainly knew their Leviticus.